Expert options in the Applications module
Activate expert mode
If you activate the setting "Enable expert options" via the Extras menu / Options / Applications, the expert mode will be activated for the Applications module.
Expert tab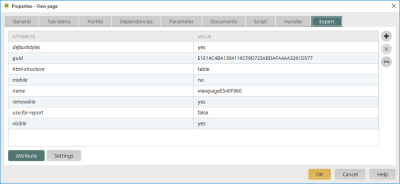 In expert mode, the "Expert" tab will now appear in the properties dialog of elements. Attributes, which describe the corresponding element in its XML application file, and settings can be changed or defined here. Click here for more information about these settings.
Details
When the expert mode is active, the "Details" dialog is also available via the context menu of an element or by pressing the F4 key.
Info tab
Click here for more information about this tab.
XML tab
Click here for more information about this tab.
Filter editor
Filters can also be directly edited in expert mode. Click on

"Edit filter in expert mode" in the filter dialog in order to open the filter editor.
The source text for a filter that has been already defined in the standard dialog will be shown in the filter editor and can be further changed from there.

Save filter and close

Saves the changes and closes the editor. Alternatively, these actions can also be triggered from the "File" menu. The filter will come into effect after publishing the application.
Indexes
If the Expert options have been activated, the additional tab "Indexes" will be available in the properties dialog of data groups. Here indexes for database fields can be defined, which will improve performance when filtering or sorting tables in applications. Click here for more information about the settings in this dialog.
Conditional display
In Expert mode, the following elements can be shown or hidden based on certain criteria:
In the properties dialog, you will then find the setting "Display if condition met".

Edit condition

Opens the Velocity editor where you can write your condition.